Guide to Buying A Private Property in Singapore

A property is always an investment, regardless of whether you are buying it to live in or not.
In this guide, you will find essential insights applicable to all private property purchases in Singapore— from the fundamental processes and timelines, to more thought-provoking factors crucial to consider when searching for a home or an investment property.
Remember this: Property purchase is not like buying stocks; it can be a dynamic process in which every step and decision is dependent on multiple factors. This guide serves the purpose of giving you a comprehensive overview of the purchasing journey, but if any of your questions are left unanswered, please feel free to reach out to us here.
Purchase Process & Timeline
What is the process like for a typical purchase?
The process of buying a property in Singapore involves several steps.
Here's a general overview:
1. Engaging a Property Agent (Optional but recommended):
You might want to consider involving a licensed property agent to assist you.
A good property agent will:
Understand your purchase objectives and tailor recommendations to you according to these objectives.
Make sure sound financial planning has been done (see next point).
Help you navigate the market and bring your attention to important factors / potential pitfalls to look out for.
Advise on the right price by conducting past transacted data and comparative market analysis.
Handle all negotiation of terms in your interest, and handle all necessary paperwork which you may not be familiar with.
Given that this purchase is likely to be one of the most significant investments you'll make, enlisting the help of professionals is highly advisable. Here's an overview of the services we provide to all our clients to ensure comprehensive coverage of all aspects.
2. Financial Planning:
Apply for an In-Principal Approval (IPA) of loan from a bank to ascertain your maximum loan amount which will form up to 75% of your total property budget. Please do not assume that the numbers generated from online loan calculators are accurate; we cannot highlight enough the importance of getting an official IPA done to avoid wasting time working with a wrong budget. Reach out to us and we will put you in touch with the right people who can get this sorted for you.
Review your finances and ascertain the total amount of cash and CPF OA funds you can set aside for this property purchase. These will be used for your 25% down payment, legal fees and Buyer Stamp Duty. Please be as detailed as possible; do not work with round numbers.
Ascertain how much monthly mortgage you are comfortably able to commit to. This would impact the eventual loan amount that you should take up with the bank. For example, your income might be able to get you a far higher loan that what you should be applying for, so you would need to work out the loan with your maximum comfortable monthly mortgage instead.
With the above 3 numbers, you can now work out the final budget you can work with. Now you are ready to commence your search.
3. Property Search and Selection:
The following would be done with or by your property agent if you have engaged one.
Identify and rank the factors that would influence your decision. We have a home buying checklist below that can help you with ranking your priorities, especially if this is a property you plan to live in. Do not skip this step— it would save you a lot of time and hassle subsequently.
Shortlist property listings carefully to ascertain suitability and invest-ability before arranging for viewings:
Look through all available material such as photos, videos, floor plans and virtual tours.
Use StreetDirectory

to analyse the location and transport links.

Ask the listing agent questions related to maintenance fees, sinking funds, and past transacted data, etc.
4. Offer To Purchase
Once you find a suitable property, discuss with your agent regarding the negotiation strategy and make an offer to the seller.
It is very important to clearly include terms such as price, option period (the time you get to confirm your decision and secure your financing), completion period (the time from you exercise your option to you becoming the legal owner), furnishings, and other conditions if any.
This way, the seller can consider your offer with a full picture and there would not be any miscommunication subsequently causing the deal to fall through midway.
5. Acceptance and Option to Purchase (OTP):
When the seller accepts your offer, an Option to Purchase (OTP) is signed, accompanied by a deposit (usually 1% of the purchase price unless negotiated otherwise).
Your agent will perform the due diligence necessary, such as obtaining a Proof of Ownership, before you proceed with the payment of the deposit.
You will now have 2 weeks (unless negotiated otherwise) until the expiry of this OTP. If you do not exercise this OTP by the expiry date, your deposit will be forfeited.
You can now proceed to review bank loan packages and secure a Letter of Offer (LO) from the bank.
You must now engage a conveyancing firm to handle all legal matters pertaining to this purchase.
6. Exercising the OTP
Within 2 weeks, once you have signed your Letter of Offer (LO) with the mortgage banker and engaged a conveyancing firm, you will head down to the firm in person to exercise the OTP. This is accompanied by the remaining deposit, typically 4% of the purchase price.
The conveyancing firm will also collect the payments for your Buyer Stamp Duty and legal fees.
7. Completion and Legal Matters:
After exercising the OTP, what's left is just the waiting time to completion date, which is when you become the legal owner of the property.
You would need to pay the remaining down payment, which is 20% of the purchase price, before completion date.
8. Property Transfer and Handover:
On the completion date, ownership of the property is officially transferred to you.
You will receive the keys to the property and can take possession, unless you have purchased a property with tenancy.
Set up your utility accounts 2 weeks in advance if you are in a hurry to commence your renovation or move in.
It is important to note that the process can vary depending on the type of property (new launch or resale), whether you're a Singaporean citizen, Permanent Resident, or foreigner, and any specific conditions of the transaction.
In a nutshell, this is how the timeline for a typical purchase looks like.
Do note that this is just a standard timeline; certain timeframes can differ in special circumstances.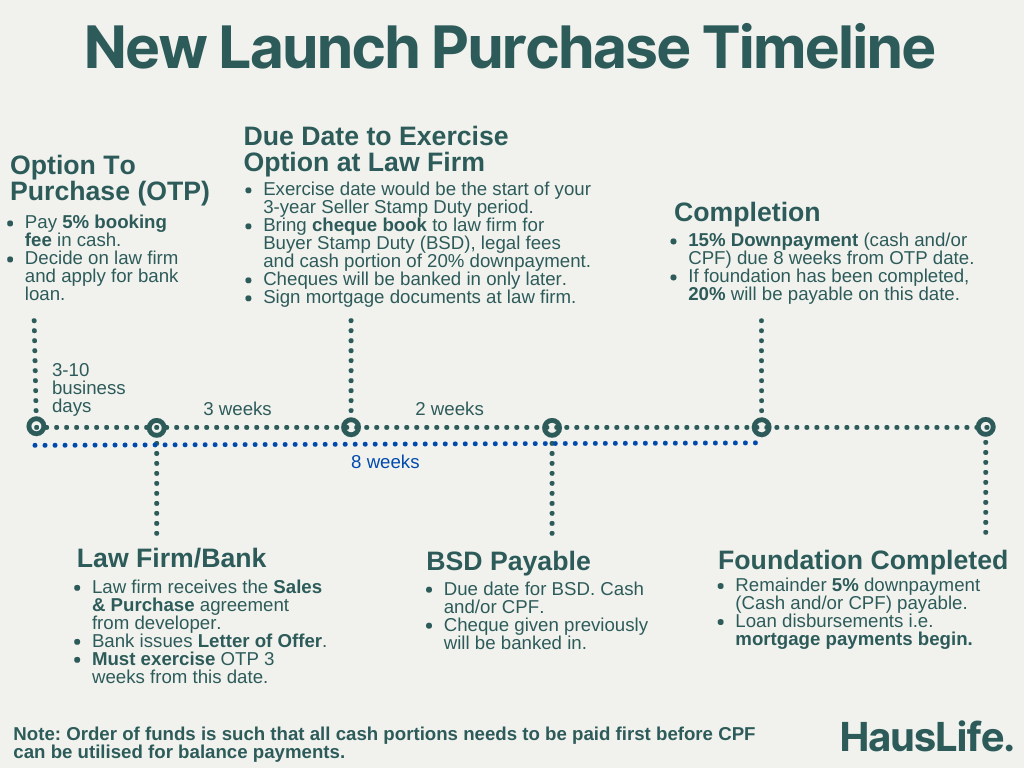 We are not "order-takers".
We do not believe in being agents who simply ask for your requirements, bring you around to see properties until you find one that you like, and then assist with paperwork.
Because frankly, as you already know, you can almost do that on your own.
While your search usually revolves around what you like and want in a home right now (instant gratification), it is really important to know how to select the right properties with the right strategy, because the worst situation to be caught in is not being able to sell your property or having to sell at a loss in the event you need to sell it someday (long-term exit plan). 
At HausLife, we make sure that when you engage us, we must value-add to the process.
Searching on PropertyGuru on your own gives you tonnes of listings at any point in time, but when we put them through our sieve— a framework that we created to find SAFE properties to invest in— there really isn't that many at all.
So what we need to do is to first show you how and why we conduct this stringent selection, during our first consultation, and make sure we are all on the same page as we progress.
This streamlines the whole process to a very efficient point where once we discover something that hits a good spot between fulfilling 1) your personal preferences / objectives, and also 2) most of the criteria that we set in our HausLife Investment Checklist Framework from a logical investment perspective, there would be a clear decision and action plan for you to take towards making your final purchase.
What We Do To Make The Purchase Process Easier For You
Planning
Initial consult to identify purchase objectives

Understand your requirements (as detailed as possible)

Streamline the search process by identifying suitable types of properties to focus on based on objectives

Discuss important market fundamentals and outlook

Long-term portfolio planning

Advise on purchase timeline

Calculation of budget for the purchase

Assistance in getting In-Principal Approvals for loans

Explain payment timelines
Product Shortlisting and Investment Analysis
Locate and recommend suitable properties

Conduct market research and competitor analysis

Provide objective analysis on units that can help you make an informed decision (future resale-ability, layouts, etc. which will be covered more under the HausLife Investment Framework section)

Arrange and manage viewings
Offers, Negotiations, and Acceptance
Preparation of an offer strategy and providing advice on the right price

Represent your interests in negotiations

Preparation and explanation of Option To Purchase (OTP)

Analysis of home loan packages and act as liaison between home loan banker and you*

Engagement of law firm (conveyancing)*
*At HausLife, we offer these services even though they do not fall under the scope of a real estate agent, as we have come to realise the importance of our role as the one person who is aware of what is going on from all angles. This allows us to manage the entire process smoothly without our clients having to fret. 
We can't promise that every transaction will be 100% smooth as there can be factors beyond our control, but what we can promise is that you have our 100% effort.
Before you continue reading on, you are probably thinking: how much does it cost for this service?
In Singapore, the common practice is for a buyer's agent to enter into a co-brokerage arrangement with the seller's agent. What this means is that our remuneration would come from a cut of the seller's agent commission from the seller. 
Home-Buying Checklist (Emotional)
This section applies to you if you are looking for a home.
Pure investors can skip to the next section. 
When you're deciding where to live there are lots of things to consider. Some of it will be rational, but lots of it will be emotional. After all, choosing a home is a subjective thing. 
In our experience working with so many buyers over the years, what we found extremely helpful for everyone is ranking your priorities and identifying your deal-breakers. 
There is no perfect home. But we are aiming to find you one that is close to perfect.
Try ranking these in order of importance (non-exhaustive):
Budget (E.g. If you know your budget is inflexible and requires a strict cap, it should be ranked high on the list)
Location (E.g. Are you strictly looking only at certain districts or are you able to be flexible if other factors matter more?)
Size (E.g. If budget and location is more important, are you able to sacrifice size for them?)
Views, Noise, Vibes and Facilities (E.g. Is not having a tennis court a deal-breaker? Do you care for views?)
Transportation Links (E.g. Must you live close to the MRT or are buses okay?)
Amenities (E.g. Anything you REALLY need?)
There could be some other factors such as specific directions or floor level you require, etc. In essence, listing all these requirements / deal-breakers down would greatly help to streamline and narrow down this search. 
HausLife Investment Checklist
The rule of thumb for property investment is always to purchase properties that have market demand. To a certain extent, you are going to need to set aside your personal perception and preferences when it comes to identifying SAFE investment properties.
1. Land Size 
In developments sitting on larger plots of land, you would notice some things, such as a grander entrance, more landscaping, facilities, and space. You may not think this is important if you are one who doesn't really care for it personally, but in the resale market, this matters and appeals to many buyers.

2. Number of Units
Transaction volume is important. We typically do not recommend small / boutique condos with <100 units due to the lack of transactions (and also because they typically sit on small land sizes). However, this number is just a guideline; when it falls below, we will have to evaluate other factors to determine if the condo is safe for investment.

3. Maintenance Fees
The maintenance fees must be reasonable to ensure a safe exit for your property. For example, if you are buying into a boutique project with barely any facilities, no security guards, and no proper swimming pool or gym, but the maintenance fees cost $500 for a 1 bedroom unit, it would definitely be tough for you to sell your unit in future.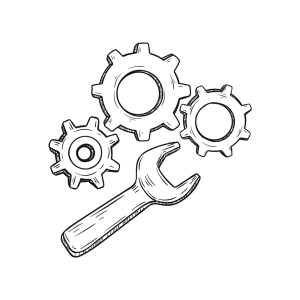 4. Layout
At HausLife, with just the floor plan we are able to tell you immediately if the layout works in your favour in terms of future resale-ability. This comes with years of experience as we are in contact with large volumes of buyers/sellers/houses on a day-to-day basis.
5. Views/Facing 
More often than not, everyone wants a nice view. The key is to balance this with the entry price— what is the premium you are paying and is the difference something you can recoup when you resell it? There are also some notable deal-breakers for being hard to resell, for example, units which are looking right into another neighbour's property at just <20m away, or units directly facing an aboveground MRT track.
6. Tenure
There are too many common misconceptions surrounding the topic of freehold versus leasehold properties, so this is a topic always covered extensively in our initial consult. In a nutshell, no, as an investor you should not limit yourself to only freehold properties. We have conducted the analysis on price trends of different condos to prove that the tenure of a property matters LESS than other attributes listed in the HausLife Investment Checklist, when it comes to market demand and consequently, capital appreciation. The decision on tenure also depends on age of property and your expected holding period.

8. Profitability Trends 
We will utilise data such as transaction volume and percentage of profitable resale transactions in a condo to understand market demand and strength of a condo. In essence, these data will tell us whether units in this condo can give you a clear exit strategy down the road.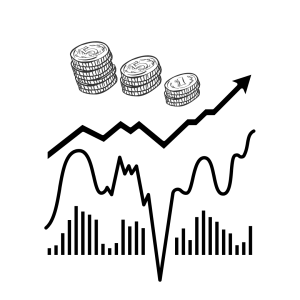 9. Supply
We need to understand the supply of similar units in the area and conduct a comparative market analysis to find out whether the condo/unit type has a strong unique selling point. For example, there could be a high supply of 2-bedroom units in the area we are looking at, but only the 2-bedroom units in ONE condo boasts of good layouts. At HausLife, market experience and extensive research allow us to discover condos and projects that can tick this box.

10. Transformation
The URA Master Plan and being up-to-date with the latest news are important to understand if there are big changes happening in certain areas of Singapore. For investment, we like to look into properties in hotspots e.g. areas with government-focused transformation, upcoming MRT stations or malls, etc. However, we have to ascertain that these announced changes are not too far away NOR too close such that they have already been priced in.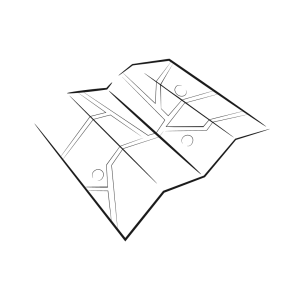 11. School Zone 
This is always a bonus to have— we do not list this as a key factor as to whether you should buy a particular condo (unless you are trying to enrol your kid to a certain primary school). But if the stars align and you happen to have a popular primary school located in the 1km zone or 1-2km zone, then this would definitely qualify as a factor that contributes to a strong exit strategy.
You've probably got a truckload of questions, especially if this is your first property or if it has simply been a long time since you last purchased a property. Here are some of the questions we find ourselves answering pretty often:
Don't Just Take Our Word For It
Erin and Sherwin were both so helpful during my 1st property purchase. They helped in every single aspects of my property owning journey and made it as seamless as possible, from identifying suitable developments, explaining the pros and cons of the developments, recommending good stacks, recommending bankers/lawyers, advising on repricing mortgage loans, to providing step-by-step to-do list upon TOP. I learnt so much from them and the detailed explanations from them made the whole journey so much less initimidating. Highly recommended agents, especially for first time property owners! Thank you HausLife, i love the view of my apartment!
Sherwin and Erin; these two have been truly our pillar in our adventure of finding the perfect home. From walking us through our options, reviewing our finances, the transparency of pros and cons of each option explored, understanding our priorities, and finally to getting the home that fits all our checklists. Through it all, we felt so safe and so taken care of knowing these two are outstanding! We are soooooo thankful and blessed to have you both in this journey with us! I have no doubt that they'll be our choice again in our property journey.
A big thank you to Hauslife on the property journey. Erin and Sherwin have been very professional in assisting me and my family in selling our property. We engaged their service in 2020 when Covid 19 first hit. It was challenging due to the restrictions but they have been very professional in helping us to negotiate and getting the sale done. They have also helped us in 2021 for marketing a unit that has not gotten a lot of buyer interest. They did a beautiful interior design layout to help potential buyers envision the potential of the property and also diligently put them on market and received a lot of interests. The sale was then concluded shortly. The marketing efforts is always backed up with strong data and analysis, would say it's definitely must go/ seek to for professional advice on all property-related matters. 🙂
Erin and Sherwin have been very helpful and responsive in every step of the way in the purchase of my first investment property! They are also very informative and comprehensive in answering any questions you may have. Will certainly recommend them as they are very knowledgeable and are investors themselves. Rest assured that you will be in safe hands. P.s. thanks so much 🙂
Erin and Sherwin truly serve all clients with 100% dedication and sincerity, and always have our interest at heart. Highly recommend them if you are looking for a agent that can be trusted!
As a first time home buyer, the process can be extremely daunting and filled with lots of what-ifs. I am not well-versed in finance and it is not helpful that the market is filled with many buyers and sellers wanting the best piece of the pie. Hence, I am extremely thankful to have met Erin and Sherwin for I can be totally candid with my worries and they would listen intently to what my needs are. Through the numerous interactions, I can see that they are sincere, honest and truthful with their opinion which is backed with years of experience and data. They made me feel safe. So I think the biggest differentiating factor is that they really listen to the clients, and not 'sell' some idea that is lucrative. I am very thankful to both of them till date!
Erin and Sherwin have been incredibly insightful and helpful in our entire house buying journey. We really can't recommend them enough! In fact, we are so glad and so thankful that we found them. Top-notch service, dedicated effort, perceptive comments, and going the extra mile to both understand and accommodate our needs - you name it! Right from the start, we knew they were the right ones that we should approach because we could connect so well and they were able to very quickly design a systematic and comprehensive approach to help us acquire our dream home. They made us feel very comfortable and secure despite it being our very first house purchase. Every step of the way, they were there to support and accompany us. Even though home purchase can be a complex space to navigate, we felt that it was so manageable and exciting thanks to their help. We learned from them what we had to look out for and could eventually make an informed choice. Once again, I am very happy that we found them in the sea of agents. Please approach them if you want to have the same positive experience that we had ????
Erin & Sherwin: incredibly effective team who make the seemingly impossible happen on a frequent basis. Despite our tight schedules and a short notice, Erin and Sherwin accomodated our requests and carried out an in-depth analysis, taking into account our preferences and objectives. Erin & Sherwin cultivated a longterm relationship with us by going the extra mile and patiently answering my questions. They have cemented themselves as our trusted advisers.
If you are looking for a Property Agent to assist you with your first home purchase, I highly recommend Erin & Sherwin. As a first time buyer, I felt overwhelmed by the complex and confusing process of buying a home and they worked tirelessly to ensure that my home buying experience is as stress-free as it can be. Throughout the entire process, they were always available to answer my questions and provide guidance. Their expertise in real estate market was evident and were able to identify properties that meet my specific needs and budget. This is very important as you don't want to be sold an unrealistic dream (which unfortunately seems to be very common in this industry) and be left struggling with the monthly mortgage payments. They were there for me when I went through my moments of buyer's remorse and patiently addressed all of my concerns. Thank you Erin and Sherwin for your outstanding work for the purchase of my property. Their professionalism and dedication truly exceeded my expectations. Please do not hesitate to contact them if you are interested in buying a home. I am confident that you will be in good hands if you choose to work with them.
TLDR: if you want to be supported and advised by ACEs of the industry, go with HausLife. My experience with HausLife can be summed up in 3 words - ACE: Assurance, Confidence, Excellence. It is all thanks to the dynamic duo of Erin and Sherwin that I managed to sell my property and purchase my dream home for my family. What sets them apart from other agents I've dealt with is that they are not here to simply facilitate or rush to close a transaction, they took the time to UNDERSTAND my wife and my wants/ needs/ priorities before proposing alternatives and solutions to meet them. In essence, they are advisors, not agents. ASSURANCE - I was living in a 1 BR apartment when I first met my wife and got married. It was a decent place to stay in when it was two of us, but due to my commandos, it was not long before we were due to welcome a third member to our family, as such, we needed a bigger place. Of all the agents we met, most were just pushing me to sell with little research done. Hauslife was the only team who helped put things in perspective through extensive data backed research to demonstrate the price range I should be looking at and why. In the end, they helped me close the deal at a better than expected price CONFIDENCE - In parallel to selling, we were also looking for our dream home. Instead of asking for our budget, Erin and sherwin focused first on understanding what we were looking for and gave us the confidence we needed to visualise our future lifestyle through detailed budget analysis. From there, they had then compiled an extensive list of available listing and it was not long before we narrowed it down to our dream home EXCELLENCE - throughout the process, I never once felt pressured to quickly close any deals, in fact, Erin and Sherwin were consistent in keeping us up to date on all movements from seller fronts and updated listing. I never once felt worried/ unsure/ concerned that there was something better out there. Through the sale and purchase of our dream home, my wife and I have never been more excited for the future we are going to build together in our next chapter together with our little one. Thank you Erin and Sherwin for being great advisors turned friends. We will invite you for house warming once everything is ready!!!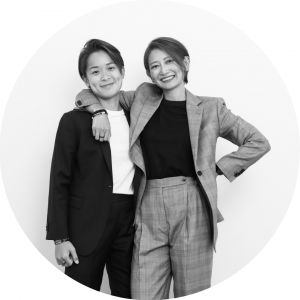 Want a free consultation?