#1: Interest Rate Volatility
The 1-month SORA (Singapore Overnight Rate Average) has been trending down below 3% in recent weeks. But at over 7%, inflation still creates a lot of uncertainty about how the Fed will act in 2023 or how the economy will fare. The aim is to return inflation to 2%. Homebuyers will likely remain cautious.
#2: Private Residential Prices Expected to Rise
High land and constructions costs to the developers

Low inventory levels in current market (read our post on 14th December 2022)

A significant drop in private homes attaining TOP after 2023, resulting in a supply crunch of completed homes (see below)
Expected Supply Pipeline of New Completed Homes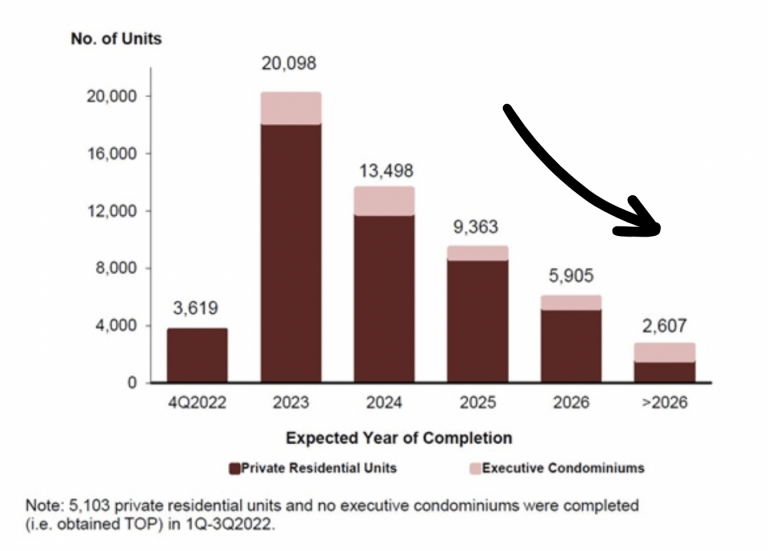 #3: Increased Supply of New Launch Projects
There will be an estimated 6,000 to 8,000 units launched in 2023 as compared to 6,200 units in 2022.

We can expect around 40 projects to be launched in 2023 as compared to <20 in 2022.

Around 50% of new launches in 2023 are going to be located in RCR (Rest of Central Region).
Upcoming New Launches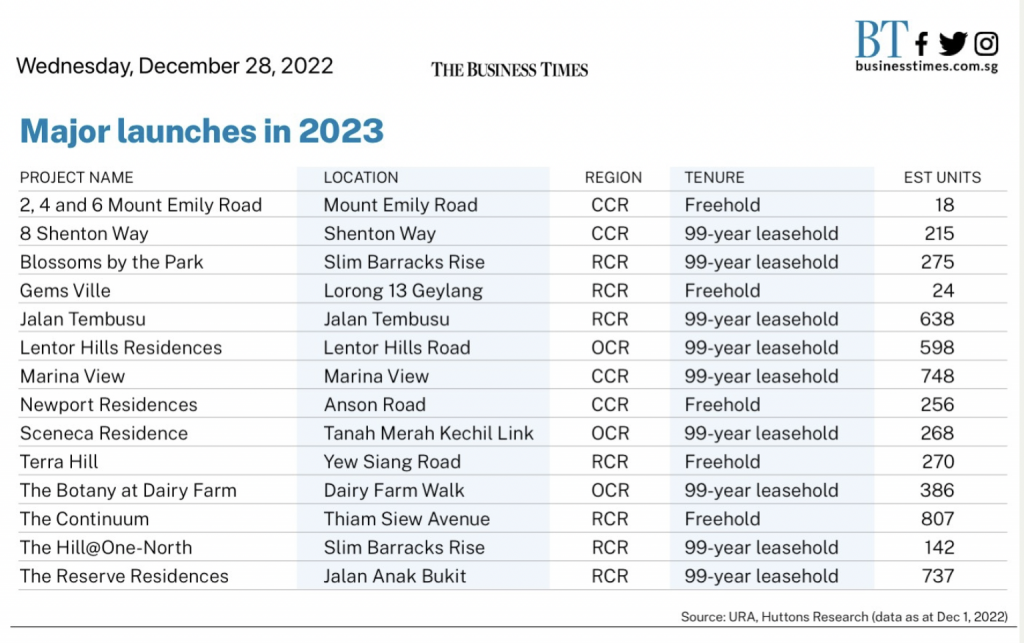 #4: Rental Market Likely to Remain Robust
Private rents have surged 20.8% year on year as of Q3 2022.

Number of private homes obtaining TOP hitting 7 year high of 18,234 units may help alleviate the tight rental market

However, rentals may still continue rising as landlords may pass on higher interest costs and property taxes.
#5: Growing Demand From Wealthy Foreigners
This study shows that our real estate remains only slightly overvalued, despite the 20% growth since 2020.

As a strong business hub and safe haven, Singapore real estate will continue to be wooed by wealthy foreign investors.
Reasons Why The Wealthy Favours Singapore
China's "Common Prosperity" policies has pushed a lot of

UHNWI

(Ultra-High-Net-Worth Individuals) and

HNWI

(High-Net-Worth Individuals) to Singapore

Singapore has been actively attracting the ultra rich, giving tax incentives to family offices

Singapore dollar has a history of being a stable currency for foreigners to park their assets in Singapore
Speak to
us
if you'd like a non-obligatory free consult!